Build and Launch
Build and Launch a SearchAssist app in about five minutes.
The build process starts by ingesting content and creating an index. After you run tests and fine-tune the search configurations, the app is ready to deploy on any channel.
You could also build your first SearchAssist app simply by ingesting your data and run a preview with the default settings. Revisit your SearchAssist app any time to customize settings based on insights from SearchAssist analytics, as required.
Getting Started
Follow these steps to create an account.
Go to our

homepage

.

Enter an email address.

Go to your email account and locate the message from Kore.ai.

Click the button to verify your account (or copy and paste the link URL in the message). Kore.ai opens in a new browser tab.



On the next page, enter your password and click Sign In.

Read the Terms of Use and click Agree to continue.
Onboarding tour
Kore.ai launches a short onboarding tour. This step is optional.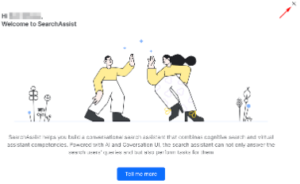 Click the buttons to move through the onboarding. At the end of the tour, click the Let's get started button. The Create app window displays. 
If you cancel the tour, the window closes and the Your Applications page displays. Click the Create your first app tile.