In Role management, New Role window under Permission, set the dashboard access controls permissions by selecting either No, View, or Full.
No for no access permission.
View for only view access permission. and
Full for full access (view and change) permission.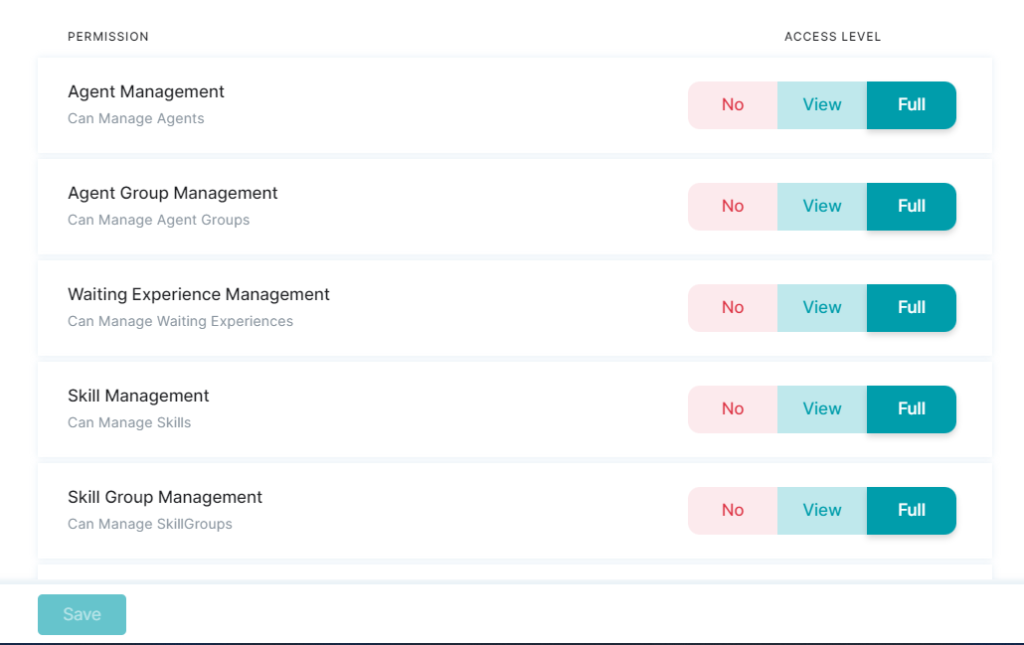 The following permissions are listed in the New Role window.
Agent Management – Permission to Add / Remove / Update Profile, Voice & Chat Support preferences and map skills to Agent.
Agent Group Management – Permission to create Agent Group(s) and Add / Remove Manager(s) to the group
Waiting Experience Management – Permission to add Routing Rules, add Call and Chat Experience settings during Wait time
Skill Management – Permission to add Skill(s) and map Agents to the Skill(s), add Priority Aging settings
Skill Group Management – Permission to create Skill Group(s), needed for creating Skills and Skill Points
Language Settings Management – Permission to add / delete Language(s) supporting Agents, upload Audio files for Hold Audio, define voice and Speech Recognition Preferences
Agent Status Settings Management – Permission to add custom Agent Status
Agent Status Hours of Operations Management – Permission to Add / Update Standard Operating hours, working and non-working days
Queue settings – Permission to Enable / Disable Skill Priority, Skill Priority Group, Agent Proficiency, Agent Affinity
Role Management – Permission to add Custom Role(s) and the corresponding Permissions
Standard Response Management – Permission to create Response Group(s) and Responses for the Agent(s) to respond to the users
Agent Desktop Console – Permission to access Agent Desktop
Agent Widget Management – Permission to access Chat Widget Personalization and add External Widget(s)